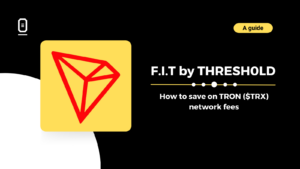 We are excited to introduce FIT by THRESH0LD: a Fee Intelligence Toolkit designed to assist you in cutting mining fees in your digital asset business. This edition focuses on TRON ($TRX). Subsequent editions will focus on BTC and ETH.
This guide covers:
The growing demand for TRON ($TRX)

How to save on TRON ($TRX) network fees

How THRESH0LD helps you
The Growing demand for TRON ($TRX)
USDT – The United States Dollar-pegged stablecoin is supplied by Tether on 32 blockchain protocols. THRESH0LD currently supports USDT as TRC20, ERC20, MATIC ERC20, BEP20, OMNI, SLP, and EOS tokens.
USDT-TRC20 issued on the TRON blockchain has the highest-circulating supply of 41.7Billion USDT which is ~50.5% of the total circulating supply of 82.53Billion USDT (according to Coinmarketcap).
Tron outperforms Ethereum in the number of unique addresses and daily transfer volume. Specifically, the number of unique addresses of USDT-TRC20 has now reached 12.1 million.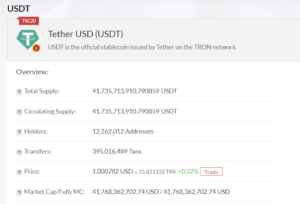 USDT-TRC20 is the preferred choice of many when it comes to USDT transfers. THRESH0LD's TRON integration is simple and fast.
Want support for Tron?
How to save on TRON ($TRX) network fees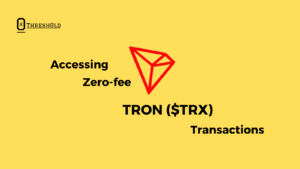 THRESH0LD makes it easy to interact with the TRON network and enables access to zero-fee outbound transactions of TRX tokens on your platform. 
The TRON blockchain features two types of network resources involved when transferring assets: Bandwidth and Energy.
Bandwidth is needed to transfer any asset on the TRON blockchain. Every 24 hours, the network grants each account (i.e. active address) 5,000 Bandwidth points for free. 

Energy is needed to transfer assets managed by smart contracts such as TRC20 tokens. The network does not grant any free Energy points.
Provided an account has sufficient Bandwidth and Energy available, it can transfer assets without being charged any network fees. Every 24 hours, the network resets both Bandwidth and Energy usage to zero for all accounts.
Currently, transferring TRC20 tokens such as USDT requires 29,631Energy points and 338 Bandwidth points. If the account transferring the TRC20 assets does not have sufficient available Energy, it will currently be charged a network fee of up to 8.2966 TRX which can amount to a huge cost for digital asset businesses processing high volumes of transactions daily.
THRESH0LD enables you to freeze TRX directly from your Vault wallet (for at least 72 hours) to delegate Bandwidth and Energy required to make zero-fee outbound transfer of TRON based assets on your platform for free.
Currently, freezing 250,000 TRX (~USD 15,000 as of the time of writing) would provide sufficient resources for approximately 181 free TRC20 transfers per 24 hours. 
Approximate savings:
1,501 TRX (~USD 90.00) per day

45,051 TRX(~USD 2,703.00) per month and

548,115 TRX (~USD32,886.90) per year (as at the time of writing)
Apart from the cost savings that come with freezing TRX, additional revenue can be generated from staking votes and rewards.
Freezing TRX brings an additional benefit: For every 1 TRX frozen, the network grants the account 1 voting point (known as TRON Power).
These can be staked to vote for Super Representatives (SR) who participate in validating the TRON network. In exchange for votes, many SRs offer a share of the daily network reward they earn, which can be claimed in TRX every 24 hours.
Currently, many SRs offer a reward of around 7% APR. Freezing 250,000 TRX (~USD 15,000) for a month would generate additional revenues of around:
1,458.33 TRX (~USD 87.50) per month.

17,499.96 TRX (~USD 1,050.00) per year.
This opens up a new line of opportunity for your digital asset business to boost revenue from staking rewards while massively saving costs on transaction fees.
Want zero fees on TRON transactions?
How THRESH0LD helps you
THRESH0LD offers a single, simple to integrate API that helps digital asset businesses cut fees, save time and enhance security.
With THRESH0LD, you can:
cut fees by over 85% for

BTC

,

ETH

and

thousands of assets

remove mass transaction challenges

enjoy peace of mind with bank-grade wallet policies

offer your customers new features (e.g. staking, lending & swapping)

grow your user base, and

maximise revenue…all with a 1-week integration.
THRESH0LD currently supports 43 blockchain protocols and with our DeFiBridge, you get instant access to many thousands of assets.
CLICK TO WATCH> THRESH0LD explained in 90 Seconds.