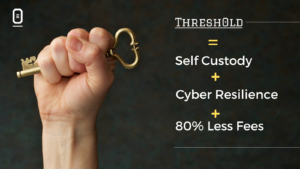 Traditional wallets require users to use cryptographic private keys to sign in and approve transactions. Enterprise wallets holding large funds for extra checks and balances usually have multiple parties signing transactions in an m-of-n approval scheme before funds can be moved. Multisignature wallets as they are called were effective for the time being but as the complexity of digital asset heist increased, flaws relating to private key compromise became a growing concern.
This concern also stems from the fact that private key management is challenging for enterprises. Traditionally, a wallet creates and manages a private key and a public key. The private key is saved on a computer's hard drive and used to authorise transfer of funds. This traditional approach means that enterprises face two main challenges:
Security vs Availability: Enterprises must keep their private keys secure to avoid theft or security compromise and at the same time must have the private keys constantly available to avoid delays in settlements.
Outsourcing vs Control: Enterprises may outsource the complexity associated with private key management to a custodian. However and by doing so, control over funds is lost since custodial services are in a position to unilaterally transfer client funds.
THRESH0LD provides a superior alternative to traditional key management solutions with zero private keys and the self-custody of assets.
Like to see how it works? Book a Demo now!
Why THRESH0LD Keyless Wallet
Zero Private Key
Our solution leverages threshold cryptography and advanced multi-party computation (MPC) to offer a keyless infrastructure where no private keys (or portions of private keys) are ever created, stored or shared at any point. This enables our customers to benefit from a highly secure and highly available service.
Self-Custody, Easy to Use
THRESH0LD offers an easy-to-use and intuitive solution which removes the complexity associated with private key management while providing full control to our customers. Only they can create, operate and manage their wallets and the policies which govern them, only they can create and approve transactions made from their wallets. Our cloud-based dedicated infrastructure solution is self-managed placing even more control in the hands of enterprise customers.
Non-custody, better than "bank grade"
We remove the burden of the single atomic private key and split the responsibility between multiple parties. We use threshold cryptography and MPC (Multi-Party Computation) to enable multiple parties to securely and collaboratively sign transactions.
Each of the parties generates its own secret (key share) and uses this secret to partially sign a transaction without revealing the secret to the other parties. The other parties add their own partial signatures. A fully valid signature is created and the transaction is sent to the blockchain network. In this way, we introduce Threshold signatures at the transaction signing level which reduces the cost of transaction fees by up to 85% when compared to traditional Multisignature wallets.
We are happy to help your digital asset business save on transaction fees & attain cyber resilience.