Finna Protocol Teams Up With Thresh0ld to BUIDL an Innovative Loan & Liquidity Protocol For Emerging Markets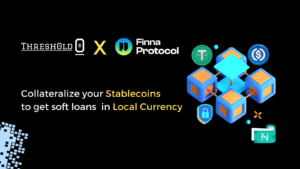 Finna Protocol, a web3 Firm offering stablecoin-to-fiat loans & liquidity services for Africa & emerging markets has partnered with Thresh0ld to build a robust and scalable digital asset management infrastructure for its financial services.
Finna Protocol is a fiat lending and liquidation management platform for Africa and other emerging markets. It's developed to help Africans overcome liquidity transitioning problems and give them more liquidation control by providing soft stablecoins-backed fiat loans and other alternative liquidity options to meet personal or business needs.
To achieve this proposition, the team has partnered with Thresh0ld to provide reliable and low-cost management of digital assets and transactions without compromising security and user experience.
In the words of Adebayo, one-time Africa lead for FTX, now the co-founder of Finna Protocol, "This partnership with Thresh0ld is a giant leap forward for our product development as we strive to minimise liquidity loss as it flows within Africa and emerging markets leveraging blockchain components. Thresh0ld is a trusted solution globally facilitating web3 development towards mass adoption and we are happy to collaborate with the team to build an emerging market-tailored solution."
Ken Akure the Head of Marketing at Thresh0ld had this to say "Finna Protocol is building an innovative and much-needed product for the emerging markets and we are happy to support them now and into the future, as they grow and scale."
He went on to say, "With this partnership, Thresh0ld is working with Finna Protocol to; set up a secure and reliable wallet infrastructure, shorten product development and time-to-market, enable support for a wide range of digital assets on Finna protocol, and reduce operating costs via lower transaction fees"
Finna Protocol's mission is centered on financial inclusion via a more accessible, inclusive, and efficient financial system for emerging markets and businesses, enabling everyone to participate in the digital economy and leverage it for better transactions, what better way to do it than shaking hands with Thresh0ld whose mission is making mass crypto adoption easier.
More About Finna Protocol & Contact Info
Finna Protocol is a stablecoin-to-fiat DeFi lending and liquidity protocol for Africans and other emerging markets. It collateralizes your stablecoins for emerging market fiat currencies. It's essentially a protocol to facilitate stablecoin-backed fiat loans and stablecoin-to-fiat exchange as an alternative means for financing and digital assets off-ramping for Africans.
Email → info@finnaprotocol.io
Twitter → https://twitter.com/FinnaProtocol
LinkedIn → https://www.linkedin.com/company/finna-protocol/
Telegram Community → https://t.me/finnaprotocol
More About Thresh0ld & Contact Info
Thresh0ld is a secure wallet infrastructure solution built to help blockchain companies such as crypto exchanges, payment processors, NFT Marketplaces, and OTC solutions cut transaction fees, efficiently manage millions of crypto transactions, save time and enhance security. Thresh0ld is being deployed by over 80+ digital asset businesses across Africa, Australia, Europe, and Asia.
Email→ Sales@thresh0ld.com
Twitter→ https://twitter.com/THRESH0LD_