Enhancing Transaction Security for Crypto Exchanges & Wallets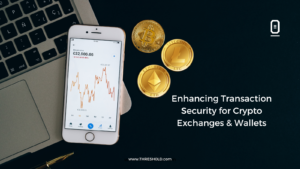 -The Importance of Layer1 Security-
The rise of cryptocurrencies has been an incredible phenomenon over the past decade, with a current global market cap of about $1.3 trillion. Cryptocurrencies have been acknowledged for their decentralized structure and capacity to give consumers control over their digital assets. However, this new level of financial freedom introduces a new set of obstacles – primarily, the security of assets.
This article will examine why layer-1 security is crucial in Web3 and how Thresh0ld enhances transaction security for crypto exchanges and wallets.
What is a Layer-1 Network?
Layer-1 refers to the underlying blockchain technology that powers cryptocurrencies. It is the first and most fundamental layer of security for cryptocurrencies. Popular examples of layer-1 networks include Bitcoin (BTC), Ethereum (ETH), BNB Smart Chain (BNB), and Cardano (ADA) etc.
Transactions on the blockchain must be secure, transparent, and immutable, and this is the function of layer-1. All additional blockchain layers, like DeFi Protocols, layer-2 scaling solutions, and other components, are constructed on top of it. In other words, layer-1 is the foundation of the whole Web3 ecosystem, and the security of layer-1 is essential to maintain trust and dependable operations of exchanges/wallets.
What is Layer-1 Security? And why is it Critical for Wallets/Exchanges?
Transactions on the blockchain are secure, transparent, and immutable thanks to layer-1 security. Layer-1 security guarantees that once a transaction is added to the blockchain, it cannot be altered. This is achieved by various consensus algorithms and complex cryptographic computations. These characteristics make layer-1 security the first layer of defense in protecting exchanges/wallets and upholding trust in Web3.
Exchanges and wallets are prime targets for cybercriminals due to the large number of digital assets they hold. Hackers constantly look for vulnerabilities in these platforms to steal users' digital assets.
Layer-1 security measures must be introduced at the blockchain level to stop such attacks. These security features, which stop tampering with the blockchain, include consensus processes, peer-to-peer networking, and cryptographic algorithms. Multi-factor authentication and cold storage can also be used to secure cryptographic material/signatures.
How Thresh0ld Enhances Secure Transactions
The concept of security on the blockchain cannot be overemphasized, and as a self-custody WaaS, security is of the highest importance to us. Therefore, our platform is built to safeguard each step in the transaction lifecycle. From Authentication > Authorisation > Signature > Broadcast.
Our technology uses strong multi-factor authentication via email and a separate mobile app to reduce the possibility of impersonation. By providing a secure out-of-band authentication route and being hardened by a security sentinel, the mobile app defends users and enterprises against phishing and man-in-the-middle assaults. Our authentication app, available on iOS and Android, leverages biometric security features such as facial and fingerprint recognition to further prevent unauthorized access.
Transaction permission is consistently enforced in accordance with expectations thanks to our multi-layered security architecture. The tamper-detection system in our bank-grade policy engine foils any attempt to evade company-approved policies. We make sure that authorization is only issued after the required approval quorums are fulfilled by using trustworthy cryptographic mechanisms.
Our platform provides next-generation keyless transaction signatures and is based on the principles of thresh0ld's cryptography. Through the separation of transaction approval from signature and the use of multiparty computation, our method eliminates the risk of private key theft. Our multiparty computation approach is strengthened by three separate computing parties in a special way that lowers the likelihood of compromise, collusion, or downtime.
Signed transactions are broadcast to the appropriate network by specialized full blockchain nodes that are available 24/7/365 to ensure rapid processing. Our dedicated nodes are set up without transactional functionality and are just used to broadcast and receive messages from their blockchain network.
Conclusion
In closing, layer-1 security is the first level of defense against bad actors in web3. In addition to other security measures,centralised crypto wallets and exchanges can safeguard against potential attacks, fraudulent activities and protect users' digital assets by integrating the robust security measures that the Thresh0ld wallet infrastructure provides.
About THRESH0LD
THRESH0LD offers a single, simple-to-integrate API that helps digital asset businesses such as crypto exchanges, payment processors, hedge funds, NFT Marketplaces and OTC solutions cut transaction fees, save time with wallet automation, and enhance security. THRESH0LD MPC supports 44 blockchain protocols and a DeFiBridge that enables swaps across thousands of assets.
Found this piece interesting? Check out our other blog posts.