8 Things to know About Solana
-Solana: The Good, The Bad and The Ugly-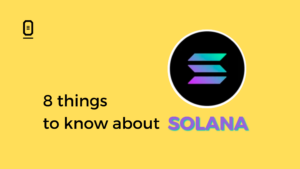 Solana was launched in 2017 by Anatoly Yakovenko and Raj Gokal as an open-source, public blockchain. Solana's smart contract capability makes it possible to deploy various decentralised applications (dApps) on it including projects around non-fungible tokens (NFTs) market places, and decentralised exchanges amongst others.
SOL token powers the Solana ecosystem. It provides network security through staking, pays for transaction processing, and serves as a medium of exchange.
Here are 8 things you should know about Solana
Solana Mining consensus
Solana combines proof-of-stake (PoS) and proof-of-history (PoH) as its consensus algorithm. PoS ensures that information about the state of the network is synced across all validating nodes. While PoH sees to it that transactions are added to a block following the correct sequence and are led by the right validator.
Solana Blockchain runs in time slots and for each time slot, a particular validator (the leader for that time slot) is responsible for processing transactions into a block. Unlike in Bitcoin's Proof-of-Work where miners compete to process transactions, Solana saves time by choosing a validator for each block ahead of time. Validator Nodes are chosen to be leaders based on how much SOL they have staked.
Solana Shutdowns
Solana has suffered many outages, especially in the last year, some outages lasting for as much as 8 to 18hours. Many argue that Solana's consensus algorithm makes it easy for bad actors to identify and target the leading validator thereby sabotaging the entire network and that this may continue to happen from time to time.
Another network blackout happened yesterday (01/06/2022) and the Solana Status update Twitter handle made this post: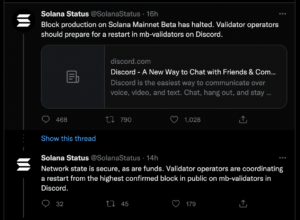 Despite the frequent shutdowns, Solana's co-founder Yakovenko is optimistic the network would stabilize over time. He said this to his community on Reddit, "If it takes 2 years to build, it will take 2 years to stabilize."
Solana network statistics
In theory, Solana is believed to have a throughput of 65,000 transactions per second (TPS). In comparison, this dwarfs Bitcoin's and Ethereum's transaction processing speeds which are 7TPS & 15TPS respectively.
The average transaction fee on Solana costs $0.00025 which is negligible when compared to BTC & ETH.
Solana market capitalization & Tokenomics
According to coinmarketcap.com, the circulating supply is 339,710,913 SOL while the Market capitalisation is $15,173,240,215 as of writing. There is no fixed maximum supply of SOL.
At inception, Solana had an annual inflation rate of 8%, and it is expected to decrease 15% Year-on-year until it reaches 1.5%.
Solana-Based Tokens
Solana tokens are based on the Solana Program Library (SPL). SPL tokens are Fungible and are similar to the ERC20 token standard on Ethereum.
DeFi on Solana
According to Defillama, the Solana DeFi ecosystem currently has approximately $4 billion in Total Value Locked TVL) across its various platforms. In terms of TVL ranking, Solana comes 5th position behind Ethereum, Binance Smart Chain, Tron & Avalanche.
Solana NFTs
Ethereum remains the most used smart contract blockchain. And as a result, the most popular NFT projects and marketplaces such as OpenSea, and Axie Infinity are built on Ethereum.
But due to high gas fees and slow transaction speed on Ethereum, Solana NFT marketplaces are gaining popularity. Asides from Opensea, Magic Eden is arguably the most popular Solana NFT marketplace. Solanart and Solsea are other popular marketplaces on Solana.
Staking Solana on THRESH0LD
Staking on Solana (SOL) is pretty much the same as delegating tokens to a validator. The staking rewards are based on Solana's inflation rate and decrease over time as the number of transactions on the network increases.
As of writing, staking rewards are approximately 5% Annual Percentage Yield (APY).
Staking SOL on THRESH0LD is simple. The process takes only 5 simple steps
Hold SOL in your THRESH0LD Vault wallet

Select SOL Vault wallet to stake from

Cast vote for a validator from the list of available validators (A little amount of SOL is needed to cover transaction costs.

Enter the amount to stake

Approve your stake and start earning rewards!
Want support for Solana?
We are happy to help