🤝Truzact to Improve User Experience & Boost Security with Thresh0ld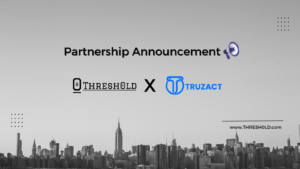 Truzact Technologies, a web3 firm based in Africa has chosen Thresh0ld as its wallet infrastructure provider to enhance the user experience and strengthen wallet security.
The CEO, GT Igwe Chrisent said, "Truzact is built for Africans, the majority of whom are low-income earners battling rising inflation and currency devaluation. Thresh0ld offers us the much-needed reliable yet cost-efficient blockchain infrastructure to build a scalable financial product for this demographic."
Mr. GT went on to elaborate on Truzact's value proposition. According to him, "Truzact offers a secure and smart way to save, invest and trade crypto with a robust crypto next-of-kin policy. The app is designed in such a way that makes it simple to use by anyone thereby taking away the complexities often associated with handling crypto while also helping users build digital wealth on the go"
Ken Akure, the Head of Marketing at Thresh0ld stated that "We're happy to be working with Truzact to boost digital asset security as they expand into new African markets. Our Know-Your-Transaction AML feature will also help to effectively monitor platform activities, ensuring Truzact's regulatory compliance and user safety."
More About Thresh0ld
Thresh0ld is a secure wallet infrastructure solution built to help companies scaling blockchain-based products (such as crypto exchanges, payment companies, NeoBanks, NFT Marketplaces, OTC solutions, etc) cut transaction fees, efficiently manage millions of crypto transactions, save time with automation and enhance security. We support 44 blockchain protocols and a DeFiBridge that enables swaps across thousands of assets.
Thresh0ld is being deployed by over 80+ digital asset businesses across Africa, Australia, Europe, and Asia.
Email→ Sales@thresh0ld.com
Twitter→ https://twitter.com/THRESH0LD_
Linkedin→ https://www.linkedin.com/company/thresh0ldglobal
More About Truzact
For collaborations and partnerships, please reach out to:
Email→ contact@truzact.net
Twitter→ https://twitter.com/truzact
Instagram→ https://www.instagram.com/truzact1/