🤝Awujo Partners with Thresh0ld to Revolutionise Web3 Gaming Experience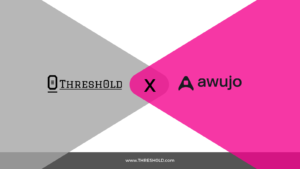 Awujo a Web3 gaming platform has forged an exciting partnership with Thresh0ld to revolutionise Web3 gaming experience. Awujo empowers gamers to create and participate in 1v1 challenges, and group tournaments and also provides an avenue for vibrant community interactions as well as unique income opportunities.
At the centre of this alliance lies the ambitious goal of transforming the gaming landscape, particularly in Africa, the fifth-largest global gaming market which generated a revenue of $862.8 million in 2022 according to data from research firm Newzoo. This pales in comparison to the $182 billion generated by the global gaming market within the same period, as reported by Statistica.
Awujo is focused on democratising gaming, onboarding more gamers and ultimately growing the African gaming community. This integration with Thresh0ld will enable gamers on Awujo to effortlessly manage their in-game assets, trade virtual items, and engage in decentralised gaming experiences with unparalleled ease.
Toyosi Abolarin, the visionary CEO of Awujo, expressed his enthusiasm, saying, "This collaboration marks a significant milestone for us in our journey to revolutionise the web3 gaming experience. By integrating Thresh0ld's cutting-edge MPC wallet technology, we are paving the way for seamless and secure transactions within our gaming ecosystem"
Since 2021, Thresh0ld has been providing infrastructural support to builders and businesses in Africa and other emerging markets. Collaborating with Awujo is yet another significant leap towards helping businesses achieve remarkable service improvements and business growth.
Ken Akure, the adept Head of Marketing & PR at Thresh0ld, shared his perspective, noting, "Awujo is a leading brand in the African Web3 gaming space. We're thrilled to stand beside them as they create a more immersive, secure, and rewarding experience for gamers in emerging markets.
This partnership not only joins two innovative forces but also sets the stage for a Web3 gaming revolution that promises to reshape the African gaming landscape.
---
More About Thresh0ld & Contact Info
Thresh0ld is a self-custody MPC wallet infrastructure solution for companies building/scaling blockchain-based products (such as crypto exchanges, payment companies, NeoBanks, etc) We help you cut transaction fees, efficiently manage mass crypto transactions, save time with automation, and enhance security. We support 44 blockchain protocols and a DeFiBridge that enables swaps across thousands of assets.
Thresh0ld is being deployed by over 80+ digital asset businesses across Africa, Australia, Europe, and Asia.
Email→ Sales@thresh0ld.com
Twitter→ https://twitter.com/THRESH0LD_  
Linkedin→ https://www.linkedin.com/company/thresh0ldglobal
Awujo Contact Info
Email-  francis@afriguild.com 
Twitter-  https://twitter.com/PlayonAwujo 
LinkedIn- https://www.linkedin.com/company/afriguild/