We are delighted to announce that we now support Fantom (FTM), a Layer 1 high-throughput smart contract platform for digital assets and dApps.
Fantom is a decentralised, permissionless, open-source smart contract platform for decentralised applications (dApps) and digital assets. One of many blockchain networks built to provide an alternative to Ethereum's high mining fees and slow transaction settling time.
Our customers can now:
Store FTM and FTM based tokens in their wallets

Allow their users to send, receive and hold FTM and FTM based tokens in their wallets

Interact with FTM smart contracts and DeFi protocols via DeFiBridge with walletconnect.
THRESH0LD supports blockchain protocols with immense utility in the industry. We currently support 43+ blockchain protocols, 390K+ assets and growing (all assets we support).
Want support for FTM?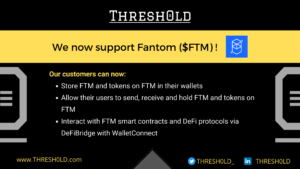 About FTM
Fantom is a fast, scalable, and secure Layer-1 blockchain that uses a single consensus layer to support the creation of multiple execution chains. Fantom is EVM compatible, Ethereum dApps can be deployed on Fantom. Like other Ethereum alternatives, Fantom intends to provide more scalability and lower costs than the legacy first-mover smart contract platform is able to provide in its Ethereum 1.0 iteration.
Fantom's native utility token — FTM — powers the entire Fantom blockchain ecosystem. FTM tokens are used for staking, governance, payments, and fees on the network. There is a total supply of 3.175 billion FTM coins. Fantom is one of the largest defi ecosystems by Total Value Locked (TVL) which as of the time of writing stands at $7.3B according to Defi Llama.
TVL is the overall value of crypto assets deposited in a decentralised finance (DeFi) protocol. It is a key indicator for measuring interest in that particular sector of the crypto industry.