BoundlessPay, a multi-utility wallet selects THRESH0LD to enhance digital asset security
BoundlessPay is a digital banking application for cross-border collections, payments, and settlements. According to the team, the app turns users' smartphones into mobile banks. A pre-installed digital wallet and debit card enables storage, swaps, and spending of digital currencies across merchants globally. In addition, the app's users can access crypto loans, pay utilities, invest in digital currencies, and access other decentralized finance features in one app.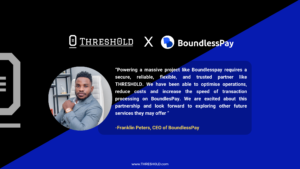 One of THRESH0LD's advantages for companies that leverages the wallet infrastructure is access to a constantly updated expanse of blockchain protocols & thousands of crypto assets. BoundlessPay currently lists 13 cryptocurrencies on the platform including BTC, ETH, BNB, USDT, DOGE, ADA, SOLANA, TRX, FTM, BUSD, CELO, and with full support for ERC20 and BEP20 tokens. BoundlessPay intends to list as many assets as possible, as it will help their community manage their entire portfolio in one wallet.
BoundlessPay currently has several thousand registered users from over 7 countries with the intention to expand into other countries as they scale. Streamlining mass transactions as userbase grows is a common challenge crypto startups are faced with, however, THRESH0LD's automation feature across wallet creation, policy engine, transactions approval etc cuts down on the time and costs by up to 85% as reported by the majority of THRESH0LD's customers.
According to the BoundlessPay team, THRESH0LD has a more effortless and faster onboarding process and is incredibly cost-effective.
"Powering a massive project like Boundlesspay requires a secure, reliable, flexible, and trusted partner like THRESH0LD. We have been able to optimise operations, reduce costs and increase the speed of transaction processing on BoundlesPay. We are excited about this partnership and look forward to exploring other future services they may offer."
–Franklin Peters, CEO BoundlessPay
THRESH0LD will continue to provide BoundlessPay with optimum service and constantly update new features to help them grow and scale.
About THRESH0LD
THRESH0LD offers a single, simple-to-integrate API that helps digital asset businesses such as crypto exchanges, payment processors, hedge funds, NFT Marketplaces, and OTC solutions cut transaction fees, save time with wallet automation, and enhance security. THRESH0LD MPC supports 44 blockchain protocols and a DeFiBridge that enables swaps across thousands of assets.